Savannah Baptist Assembly
Located in Southwest Effingham County, just minutes west of historic Guyton, the Savannah Baptist Assembly is a retreat and recreation center owned and operated by the Savannah Baptist Association. Opened in 1967, the Savannah Baptist Assembly is dedicated to the Glory of God to build Christian character and help individuals find and rightly respond to God's will for their lives.
Ministry Goals
1) to provide a facility and an atmosphere that is conducive to the rest and renewal of God's people;
2) to be an instrument that our churches may use to evangelize, encourage, train, and mature the brethren; and
3)to provide Christians with a place for ministry and service.
It is our desire that the Savannah Baptist Assembly be a quiet place of rest and renewal. Come to the Savannah Baptist Assembly and renew your spirit, re-establish a connection with God's wonderful creation, and enjoy wholesome recreation and fellowship with friends and/or family. Play tennis, enjoy a game of volleyball, take a swim in the 30' x 60' pool (open May-August), play horseshoes, basketball, or softball, or just sit quietly and enjoy the tranquility.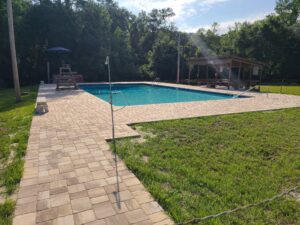 Facilities
Savannah Baptist Assembly is available for both day and overnight rentals. Presently, all sleeping accommodations are dormitory style. Guests provide their own linens and toiletries. Guests should bring a flashlight. All food preparation must be provided by the group.
Big House – The Big House has two bedrooms, each with an attached bath. The rooms sleep eight and twelve respectively. The Big House contains the main kitchen and main dining hall (accommodates 50 –70).
Lodge – The Lodge sleeps sixteen in a large room that contains a fireplace, beds, and a meeting area. A small kitchen and a bathroom are attached. The Lodge is suitable for small groups of the same gender.
Cabins – There are four smaller buildings (sleeping cabins 1-4); each contains eight beds (four bunks) and a bathroom. The newest sleeping cabin (#5) sleeps sixteen and now has an attached bathroom.
Tabernacle – The Tabernacle, our largest assembly hall, is 4000+ square feet. The main room contains a stage and is equipped with two overhead TVs and sound equipment. It is air-conditioned and heated, with bathrooms and a small warming kitchen. The Tabernacle can accommodate 150+ people at tables and nearly 200 if chairs are placed in an auditorium arrangement. There are no sleeping arrangements for this building. 
Reservations
Reservation of summer weeks (June – August) requires a $500.00 deposit which may be paid in two equal installments. $250.00 must accompany the registration/reservation form. The balance of the deposit is due by March 15th. Reservations canceled after March 31st result in forfeiture of full deposit. Email assembly@sbassociation.org for more information and registration forms.
Overnight reservations for September thru May require a $300.00 deposit. Reservations canceled less than 30 days before the scheduled rental result in forfeiture of full deposit. (For location and contact information, click HERE).
Savannah Baptist Assembly policy requires that guests exhibit modest dress and genteel behavior (no profanity or crude language). Guests are not permitted to bring alcoholic beverages, tobacco products, drugs, fireworks, firearms, four-wheelers, or pets onto the Assembly grounds.
Group Leaders are responsible for informing all guests in their group about Assembly policies and regulations before they arrive at the Assembly.
All visitors to the campus must be registered or have permission from the Savannah Baptist Association. If your business has used the property before and would like to use it again for settings for photographs or anything of that nature, you must contact Dale at 912-656-6570 or www.assembly@sbassociation and schedule an appointment. You must also fill out and sign a liability form in advance of the appointment. Anyone entering the grounds without permission will be trespassing.